**Note: Here be spoilers.**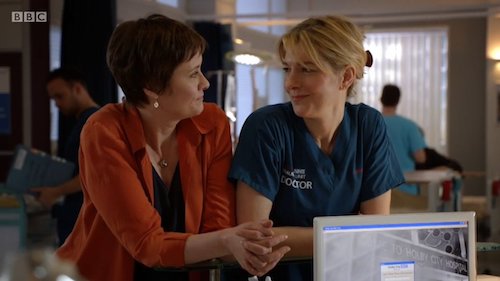 #1 Because representation matters
The older I get the less patience I have for stories about men, for men. It doesn't help that this covers most of TV. This started me on a quest to seek out series featuring women or series that have stories about women (not the same thing). These women had to be well-developed characters, with stories of their own rather than furthering the storylines of their male counterparts. But it was more than that, and the search slowly started changing into a more specific one for better representation. It took me through (in no particular order) Grey's Anatomy, The Good Wife, Orphan Black, Bad Girls, Scott & Bailey, The Fall, Orange is the New Black, Rizolli and Isles, The Good Fight, Vera, Last Tango in Halifax, Call the Midwife, Mom, The Fosters, Switched at Birth, Grace and Frankie, One Mississipi, Gilmore Girls and many more. Some of them were ordinary, some great and some disappointing (I'm looking at you, Last Tango in Halifax). And then came Holby City where I was compelled to stop awhile. Of course, it is not the end of my quest, but it has been wholly satisfying for a variety of reasons, not least of which was the fact that they seemed to have learnt from the mistakes of their predecessors.
#2 Because it was a good story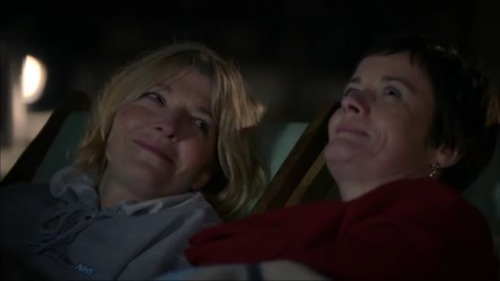 What was it with the Serena Campbell and Bernie Wolfe storyline that was so satisfying? Was it the story itself? Brilliant casting? The fact that it was just a romance and not coming-out angst? Maybe because it wasn't tailored for a male gaze? Or maybe the great acting and fantastic onscreen chemistry between Catherine Russell and Jemma Redgrave did it? Or perhaps just…Jemma Redgrave? Jokes apart, for a drama series, #Berena was a surprisingly nuanced tale. There are many things in Holby City that are ridiculous (such as the fact that nobody ever seems to give notice or that entire departments can shut down in the course of half a day or that patients can look completely recovered about five minutes after life-changing surgery), but somehow with Serena/Bernie they managed to come up with a storyline befitting two middle-aged women with pasts and the inevitable baggage that entails. Serena Campbell, deputy CEO of Holby City Hospital and head of the Acute Admissions Unit, was a long-standing favourite in the Holby universe. Major Berenice Wolfe, acclaimed frontline trauma surgeon, British Army, was brought in as a romantic interest for her. She came in as a patient and later became a co-worker. Then dramatic things happened, including a romance that was "not exactly Mills and Boon", a personal tragedy and finally a professional one. All part and parcel of being in a drama series.
#3 Because two 51-year-old women kissed in a family-time TV show
It was Holby City that made me fully realize that I had lost patience with simplistic storylines, token diversity and hetero-washing. Hard to say for sure, but it might have been because of the sheer ordinariness of the way Serena Campbell and Bernie Wolfe's sapphic angst fest was portrayed and how off-the-scale it still was. Though this seems contradictory, the story was both direct as well as subtle. That is to say, they did not shy away from its portrayal, but this was no codified hearts-and-flowers type of romance, nor were there elaborate declarations of love. Yet there was never any doubt what was happening. And instead of going for the stale love-conquers-all route, it went for a more realistic one, where love wasn't enough, but there was enough of it to let each other go, and yet letting go didn't mean the end.
In fact, the series got it right right from the beginning. Here were two women in their 50s—and they weren't "nice women" at all—who decided to support each other rather than be rivals. They became friends and then went on to fall in love. It was a complex and layered relationship that developed on screen via a slow burn now famously on record as having been scripted more by the two actors who played the roles than by the screentwriters. Despite the slow build-up and the understatedness, Holby City's exploration of sexuality in this pairing was refreshing. Serena did not stray into the borderline-homophobic "but I'm straight!" path. And equally important, Bernie never apologized for her fluidity, and in her failing marriage her husband was not cast as a homophobe. What upset him was not who his wife of 25 years had had an affair with—"I don't care—woman, man, enemy of the state"—he was upset she hadn't told him. Finally, neither Bernie nor Serena were ever looking for a happily-ever-after.
#4 Because nobody died
Queer women are all too used to seeing themselves killed off on television. For decades, gay and bisexual characters have met a series of unfortunate ends, usually in service of moving the plot forward, crushing the spirits of the partners they leave behind, or just making a straight person feel bad.
(From Vox.com/2016/3/25/11302564/lesbian-deaths-television-trope)
A significant proportion of queer women characters only ever get one type of ending—the sort you can't come back from. This is a subset of a trope called "bury your gays", and one sees it across media, not just on TV. It's easy to miss it—we are all conditioned to seeing women and LGBTQ+ characters as more dispensible than straight (white) men—though once it's pointed out, you can never unsee it. The dead lesbian/LGBTQ+ trope is more common than we think, and the showrunner being female or queer does not make a series immune to it. Examples off the top of my head: Sally Wainwright for Last Tango in Halifax and Russell T. Davies for Torchwood. Of course, this raises the argument that, for the sake of realism, queer women (or men or anyone else) must die too, and surely, in absolute numbers, more straight people die. Well, they do, but the representation is disproportionate in the first place, thus making a disproportionate number of queer characters dying. In the case of Holby City, not only did the creators of #Berena not take the lazy way out by playing the dead lesbian card, they even cocked a snook at it. This is especially significant in light of both actors being scheduled to leave Holby City during the course of their storyline.
#5 Because in her final episode Bernie Wolfe got on a Eurostar to the south of France…
…to join Serena Campbell. And we already know that their happy ending includes Serena coming back to Holby, while Bernie goes to serve in a British Army field hospital in Sudan. Even if you discount the fact that a significant proportion of lesbians in fiction die, how many stories featuring older queer women have even had a happy ending? Not only did Holby City give these two a happily-for-now, they redefined what that meant. It didn't include a conventional domesticity, but in fact let each partner pursue their individual goals. A mature and realistic end (for now) to a well-thought-out story about friendship, falling in love, getting together, growing apart, letting go and then getting a chance at finding happiness without having to break up or die.
It has certainly helped that both Russell and Redgrave are politically engaged individuals who were aware that by playing lovers on a prime-time medical drama they were creating history because, in the first place, rarely have two middle-aged women been given the space to explore their sexuality in a family-friendly show, and second, older lesbians are more or less invisible in the portrayal of normal, everyday-ness on TV. Unlike some actors who chose to distance themselves from the roles they have played, especially when those roles have been even vaguely unconventional, neither Russell nor Redgrave have done so. They have also come out in support of the #Berena fandom and encouraged them on whether or not the #Berena canon is continued on TV. They have acknowledged the responsiblity of "getting it right" and the role the story they protrayed has played in the real lives of young queer women. "It's amazing the power of that little box in your sitting room," said Catherine Russell in an interview at the MCM ComicCon in London about Serena's story with Bernie. Difficult to argue with that.
~PD
(Image copyright: BBC)